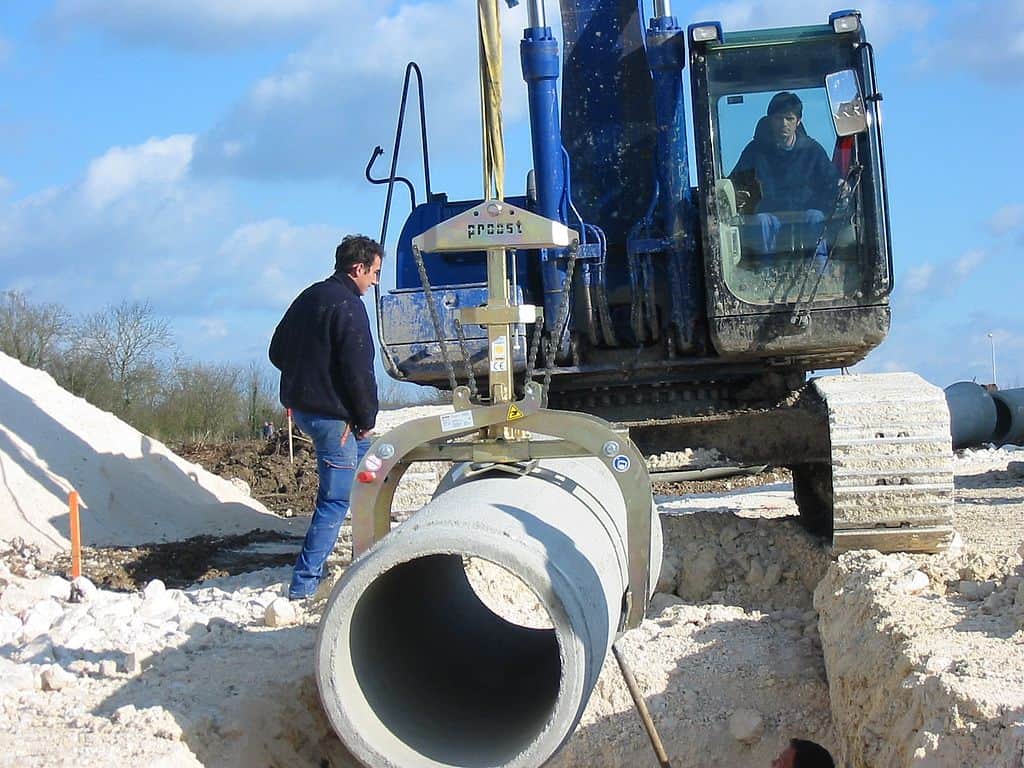 Innovations in Pipe Handling
February 27, 2020
Handling pipes is one of the biggest challenges in sewer construction and on civil construction sites. Probst offers a wide range of handling solutions where efficiency and safety come first. We are now stocking two new mechanical pipe grab attachments from Probst the Round Grab RG and the Round Grab RG-75/125-SAFELOCK.
Safety first
The RG pipe grabs from Probst were specially developed for the laying of sewer pipes. With their large gripping surface, they are gentle on coated pipes and their low lateral clearance allows working in narrow trenches and picking up closely spaced pipes, e.g. from a truck loading area. This successful grab attachment range also includes the RG-75/125-Safelock. The RG-20/80 covers a classic outer tube diameter of 200 to 870 mm and offers a load capacity of up to 2,500 kg. RG-75/125-Safelock holds pipes from 720 to 1,280 mm and up to 4,000 kg securely in its jaws.
The extra safety is also reflected in the name of these handling devices. "Safelock" stands for a patented safety lock. When the pipes are lifted, a tension is created on the pipe which remains even after the pipe has been set down and is only released by intentional unlocking. In this way, the pipe can be placed and picked up several times without endangering people or material until it is safely placed at the desired location. This ensures maximum safety when handling pipes weighing several tons.
Lifting, moving or laying materials, such as pipes, is a lot easier and less time consuming when using the right attachments or equipment. We stock a wide range of lifting equipment to suit a wide range of industries. Our range includes mechanical grabs, for various shape and size materials, and manual lifting equipment to save on injuries and time during jobs.
When you are looking for a grab attachment for your excavator, skid steer, wheel loader or telehandler give us a call on 04 4272 6044 or contact us