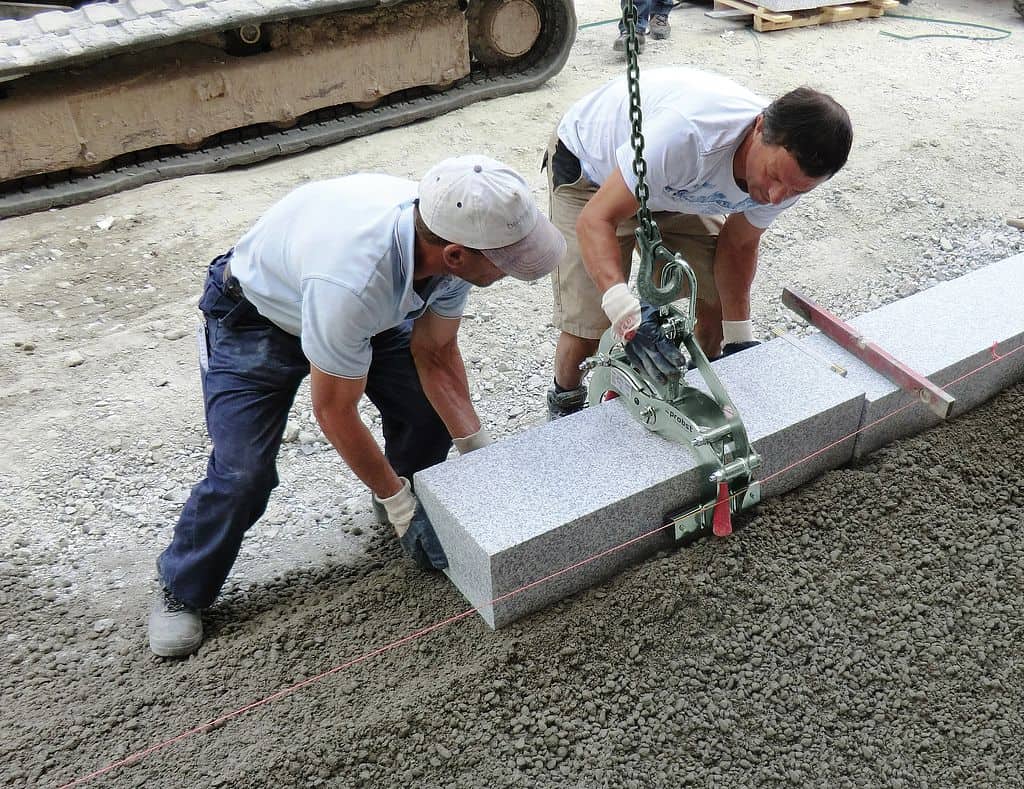 Small Grab With Tremendous Power
April 28, 2020
Construction work in the downtown area of any city or down area is always inconvenient to the public and business owners. Therefore, fast and efficient completion of the work is in everyones best interest and having the right tools and machinery to rely on plays a key role in this. During restoration of the downtown area of Oberstenfeld in Germany, the paving company Bercher & Malejko used the Probst EASYGRIP EXG Border Stone Handle Grab to lay the granite kerbstones.
Due to heavy use of the cobbled stone footpaths in the Obestenfeld downtown they were showing considerable signs of wear. The street was repaved, broadened to 6 meters and bordered with granite flagstone and large granite kerb stones (100 x 30 x 25 cm). The Portuguese granite is sawn and bush hammered, giving it a flat surface that provides good grip.
The light 12 kg Probst EASYGRIP EXG Border Stone Handle Grab performed extremely well during the construction work, thanks to its tremendous load capacity and ease of use. In addition to granite kerbstones, the mechanical grab easily transports border stones, slabs, block steps and kerbstones with a weight of up to 550 kg. Attached to a carrier – such as an excavator, crane or mini loader – with a hoisting belt or chain, the handy grab can also be operated by just one person. Of course the grab can also be used manually, since it is equipped with dual handles for two-person operation.
Lifting, moving or laying materials, such as kerbstones, is a lot easier and less time consuming when using the right attachments or equipment. We stock a wide range of lifting equipment to suit a wide range of industries. Our range includes mechanical grabs, for various shape and size materials, and manual lifting equipment to save on injuries and time during jobs.
When you are looking for a grab attachment for your excavator, skid steer, wheel loader or telehandler give us a call on 02 4272 6044 or contact us