Machinery Attachments and Mini Track Dumpers
FEMAC T20 Hydraulic Mulcher for Excavators 15-30 tonne
Overview
The FEMAC T20 Hydraulic Mulcher is a heavy duty flail mower attachment for 15 – 30 tonne machines.
Available in 1300 mm and 1800 mm size. Wide range of flails and 3 types of rotors available.
Made in Italy by FEMAC SRL
Features:
DF Rotor with fixed teeth in widia or hardened blade.
Helicoidal rotor with 3 screws.
Forged and hardened counter-blades.
Very hard anti-wear frame.
Funnel-shaped frame for higher cutting capacity.
Toothed high-performance belts transmission.
Internally rienforced double-case body with interspace.
Protective belts cover.
Hydraulic hoods, fully openable for higher cutting capacity.
Inside Rotor Supports with "labyrinth" for the protection of the bearings from the impurities.
Adjustable bearings of 1st quality.
Valves block complete with priority valve for adjusting oil flow, anti-shock valve (pressure relief valve), anti-cavitation.
Piston motor.
Dual row protection chains for better protection.
Accident prevention chains protections according to EC directives.
Specifications
| Model | Excavator (tonne) | Cutting width (mm) | Dimensions (LxAxH cm) | Weight (Kg) | Motor Displacement | Oil L/min | Pressure Bar (min-max) | Transmission | Rotor | Teeth |
| --- | --- | --- | --- | --- | --- | --- | --- | --- | --- | --- |
| T20 DF130 | 15.0-30.0 | 130 | 170x100x90 | 1.050 | 45-60-80 | 100-130 180 | 200-350 | 1 (55 mm) | Helical | 36 |
| T20 DF180 | 20.0-30.0 | 180 | 220x100x90 | 1.320 | 45-60-80 | 100-130 180 | 200-350 | 1 (55 mm) | Helical | 54 |
Options
Flail Options:
HF14 –  Ø 25 cm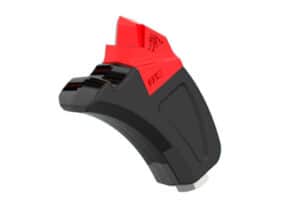 HF15 –  Ø 20 cm
Rotor Options :
DF – Forestal rotor