Machinery Attachments and Mini Track Dumpers
Probst Round Pipe Grab RG-75/125-SAFELOCK
Overview
The Probst Round Grab with SAFELOCK is designed for lifting, moving and laying pipes on civil construction or plumbing sites. This mechanical pipe grab has a safety latch to ensure the clamping force is in place at all times, even if operated incorrectly.
The RG-75/125-SAFELOCK mechanical pipe grab enables contractors to lay concrete pipes with external diameters from 720 mm to 1,280 mm.
Safety catch: when lifting the product, the grab generates tension on the pipe, which is maintained even when the product is set down. This internal interlocking can only be released if the operator deliberately initiates it.
Dual Safelock for extra safety
The eye runs 2 hanging position settings. One is used for locked grabbing, the other for releasing the catch and for empty lifting. This allows one-person operation.
Easy, continuous adjustment of the external diameter by means of a scale from 720 mm to 1,280 mm using threaded spindles. Crank included in the delivery.
Adjustable height supports, which can be adjusted with a scale using the external pipe diameter. This guarantees an optimum grab position.
Slimline design allows joint-sleeve pipes lying close together to be picked up in the truck loading area and used in very narrow trenches.
Replaceable steel grab clamps with a reliable grip.
Built-in handles to guide the claw.
Optionally available: rubber gripper jaws for gripping plastic-coated pipes.
Ideal attachment for use with skid steers, tractors, cranes, excavators, wheel loaders and mini loaders
Click here to see the full range of Probst grabs and lifting equipment.
Probst Grabs are made in Germany by Probst GmbH  and distributed in Australia by Delta Equipment Australia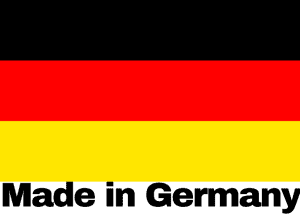 Specifications
| | |
| --- | --- |
| Type | RG-75/125-SAFELOCK |
| Outside diameter of pipe: | 720 – 1,280 mm |
| Gripper length: | 440 mm |
| Working load limit: | 4,000 kg |
| Dead weight: | 370 kg |
| Surface protection: | Galvanised |
Options
Steel Finger Gripper* 60 x 60 x 15 mm
GMT Rubber track, black* 60 x 15 x 200 mm
* 4 pieces per Round Grab necessary